Thank you for having been a Subscriber to my Intellectual Property Computer Expert Blog.
I turned 70 last week, and I am sending you the first email since you joined (and probably my last), with a Special Offer to my blog subscribers.
A 50% discount for you or a good friend of my Five Star Amazon Reviewed "Expert Witness Training" book.
For purchasers during my birthday month, I'll even pay the shipping costs for you):
Learn from Judd Robbins – Successful expert witness since 1986 in State, Federal, and International Courts.
Learn how to add 'Expert Witness' to your credentials. The book contains lessons, appendices, and hundreds of tips for both new and experienced expert witnesses.
Learn the A-B-Cs of earning high hourly rates in support of litigation in your current specialty!
————————————-
Click Buy Now (or the book cover) for a brand new and 50% discounted (from regular bookstore retail of $45) copy of my book: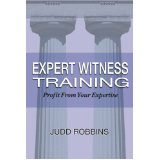 Contains practical details about becoming, being, and succeeding as an expert witness.
Includes explanations of qualifications, opinion formation and expression, and jury persuasion.
Features 100+ special tactics from my decades of experience, for use by professionals

Reviews:
"I just wanted to tell you that Judd Robbins' book, Expert Witness Training – Profit From Your Experience, is the best book on the topic I have read in over 20 years.
It is concise and to the point, yet it covers a great many topics while still being readable. I highly recommend it."
"This is exactly the kind of insider knowledge that I wish I had prior to my depo yesterday! However, I will be much better prepared for trial thanks to you."
"…I made a course at my (Spanish) University about Computer Forensics and Witnessing and my teacher told us that is the only book that is really worth it"…José 

"What a treasure of information! I was bowled over by how complete, thorough, and easy to understand this tactical book for expert witnesses is. I learned some things I did not know and got different viewpoints on the expert's role in the legal process. Consequently, I will be recommending that every client of mine purchase this book. Thanks. The Judd Robbins book was outstanding!"
Reviewed positively from the American Association of Law Librarians
"The lessons on preparing for a deposition and giving testimony at trial are priceless."
"The book is an invaluable resource for those entering into the expert witness field as well as an excellent reference book for the seasoned expert."
"The book is very coherent and easy to understand."
"The books format written in 12 Lessons was as if Judd was in the room teaching his vast experience as an expert witness."
"Thanks. The Judd Robbins book was outstanding!"